Fluke Thermal Image Cameras and Thermography | RS Components
Check out the latest range additions below
Fluke thermal cameras are built without compromise to the Fluke standard of ruggedness, reliability and accuracy. Designed for everyday use, in the toughest industrial environments for thorough and accurate inspections. Choose from the convenient pocket thermal camera, to our popular and easy-to-use touchscreen handheld thermal cameras to high-definition mounted research and development cameras
Pocket Thermal Imaging Camera
Rugged easy-to-use thermal imager for electrical and industrial inspection:

A thermal imager of this size is ideal for first line troubleshooting. Use it to quickly scan electrical equipment, pumps, motors, building systems, HVAC, and process control equipment for hot spots and cold spots that can indicate early signs of trouble. Now you can get a professional grade, thermal imager in a pocket size. The 3.5" LCD touchscreen IR Fusion automatically captures a digital visible light image simultaneously with an infrared image and lets you view the result with varying degrees of blending—from full infrared to full visible light. Simply slide your finger across the screen to adjust the setting.
Handheld and High Resolution Thermal Cameras
Preventive maintenance and analysis
Get clear, accurate focus on objects near and far with MultiSharp™ focus, or focus with laser speed and accuracy on your designated target with LaserSharp® Auto Focus. Easily navigate the menu and view images on a 3.5 inch touchscreen with 480 x 640 resolution. Get more from your camera with an optional 2x or 4x telephoto or wide angle smart lens.


Fluke Ti401 & Ti480 PRO Thermal Camera
Perform thermal inspections with more confidence and faster results than ever before. At 640 x 480 resolution, Fluke Ti401 PRO and Ti480 PRO thermal cameras offers high resolution along with the ruggedness and ease of use that you'd expect from Fluke. Get sharper, crisper images and more exacting temperature measurements. The popular pistol-grip design allows for convenient one-handed use. Never lose sight of an issue with the 3.5-inch (landscape) LCD screen.

With the Ti480 PRO MultiSharp™ focus captures images that are focused throughout the field of view, even if you start from a completely blurry target. The camera takes multiple images and combines them to give a clear, accurate focus on targets near and far. See more detail with SuperResolution, offering 4x the pixel data. Using the software and SuperResolution you can view images with up to 1280 x 960 resolution.


Fluke TiX501 Thermal Camera

Use the high definition thermal camera needed to complete reliability inspections, make industrial maintenance decisions, conduct building diagnostic testing and troubleshooting. Work without strain in awkward or hard-to-reach areas with the articulating screen that rotates 240-degrees. This ergonomic design gives you the flexibility to hold the thermal camera in a position that is comfortable, even when taking images overhead, over, under and around hard to reach targets.
Shoot images near... and far. Interchangeable Smart Lenses require no calibration of the thermal camera and give you the versatility and image quality needed to conduct inspections in almost any environment.
Find subtle temperature differences easily-with advanced thermal sensitivity




Save time with the Fluke Connect® system
You can wirelessly sync images directly from your Fluke Thermal camera to the Fluke Connect® system, and attach it to an asset record or work order.

To Check out the Fluke Connect app, please download the free demo software to your desktop or smark device.

Click the icons below...



Fluke RSE Series Fixed Cameras

The first ever fully-radiometric, mounted Fluke infrared cameras, equipped with advanced features and software plug-ins to MATLAB® and LabVIEW®. Strategically mount these infrared cameras to your workstation or outdoors for continuous infrared data collection. Designed for your research, science and engineering needs, choose between 640x480 or 320x240 resolution infrared cameras to enhance testing and quality assurance procedures. Focus, auto capture images, adjust level and span, and analyze infrared videos frame-by-frame remotely from SmartView® desktop software, and enhance viewing with optional add-on lenses to target different applications (wide-angle, 2x and 4x telephoto, and macro)





Fluke 279 FC Thermal Multimeter
The 279 FC thermal multimeter is a full-featured digital multimeter with integrated thermal imaging, designed to increase your productivity and confidence. The thermal multimeter helps you find, repair, validate, and report many electrical issues quickly, improving your ability to solve problems.
Fluke DS701 and DS 703 Diagnostic Videoscopes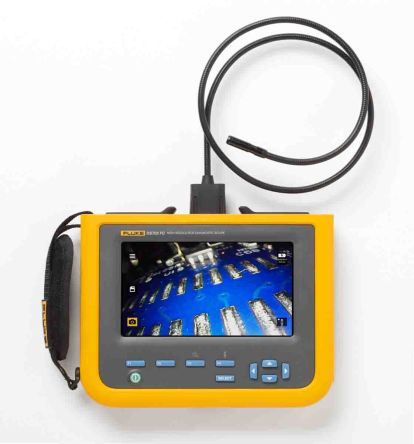 The benefits of a videoscope are well known. But industrial inspections require a powerful diagnostic videoscope designed to stand up to the dirtiest, most harsh environments.
• High definition probe with dual-view camera
• Processing speeds that render a smooth, clear, consistent image
• 7" LCD screen for easy viewing
• Macro to micro zoom function
• Adjustable lighting to capture the best image
• Up is Up® technology for an appropriate orientation, regardless of the probe location (8.5 millimetre, 1.2 metre probe only)
Fluke Diagnostic Videoscopes put high-resolution images in the palm of your hand.
Read about Fluke Thermal Imaging on DesignSpark
DesignSpark is the home of our engineering community. It's an online platform which allows passionate engineers to share ideas and find resources or tools to help with their projects.