Product Details
Zero Force Touch Buttons
Black polysulfone (VALOX 357) thermoplastic housingSuitable for single or two hand control applicationsFits 22.5mm holePrewired or five-pin micro quick disconnect connector versions availableReduces the risk of repetitive strain injuries
Ergonomic design for simple and easy operationCE MarkedIP66 ingress protection1200 psi hose down capabilityA 30.5mm to 22.5mm hole adaptor is available separately
Approvals
UL/ UL listed for Canada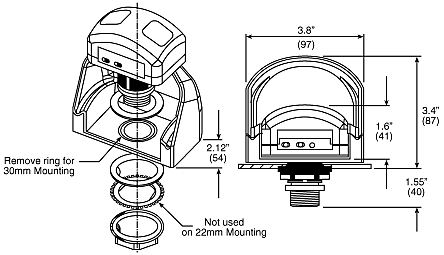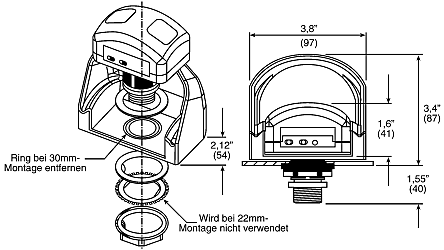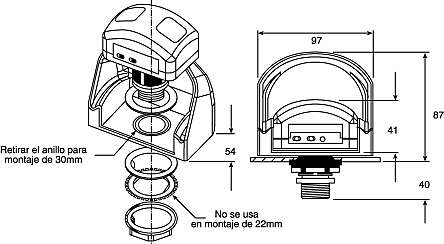 Allen Bradley Touch Button
The Allen Bradley 800Z series touch button is designed for machine control systems that require the use of both the hands. It has an interlinked sensor surface that weaves two capacitive sensors in offset planes for superior product sensitivity. The output can be initiated by touching the surface of the switch. This button can detect hand through most industrial gloves. The contour of this touch button easily conforms to the shape of the hand while helping prevent defeatability when two-hand control is needed.
The relay has a 5 pin QD output with a contact rating of 2.5A at 24VDC.
Features and Benefits
• 1NO/NC contact configuration
• Black polysulfone thermoplastic housing
• Suitable for single or two-hand control applications
• Fits a 22.5mm hole
• Prewired or 5-pin micro quick disconnect connector versions available
• Reduces the risk of repetitive strain injuries
• Ergonomic design for simple and easy operation
• Hose down capability is 1200psi
• Has 30.5mm to 22.5mm hole adaptor is available separately
Certifications
• CSA certified
• CE certified
• EN50081-2
• EN60204-1
• EN60954-1
• EN61000-6-2
• EN/IEC 60947-5-1
• UL 508 approved
• C-TICK certified
• IP66 rated
Zero Force & Opto Touch Switches
Actuated by sensors using patented Field Effect Technology which converts the touch of the operators hand into an electrical output. The two sensors have to be touched within 0.2 seconds of each other and can differentiate between a person's hand and most solid objects/substances, as well as resistance to accidental actuation via clothing, fluid, splashes etc.,There are built in diagnostic safeguards for power-up protection, foreign object intervention and film/deposit interference which all result in LED indication.