With over 500,000 stocked industrial and electronics products online, a wide-range of services and value-add solutions available, we aim to be by your side and help keep your business operations running smoothly.
On this page you will find a range of key focus areas that we believe can help make your online experience easier, key products and suppliers that we know can help to add value, a range of latest news from our customers and partners as well as a broad overview of other information that you might find useful
Everyday Electronics
Discover how our wide range and suite of FREE design tools, makes us first choice for electronics engineers and designers.
Learn More >
Design & Automate
Whether you're designing & building automated machinery, commercial equipment or control panels we've got everything you need.
Learn More >
Maintain & Improve
Keep your production lines moving and continually improving, from process maintenance to upgrades, we're by your side..
Learn More >
Personal Protection
We're here to keep you and your colleagues protected from head to toe.
Learn More >
Working from Home
We can help keep you connected, comfortable and productive while working at home.
Learn More >
Cost & Efficiency
RS has an extensive range of both services and products to help you boost productivity, save money, time, effort and energy.
Learn More >
Have you discovered RS PRO
RS PRO, the own brand of RS Components, has brought together a range of Protective Measure solutions to support you and your employees.
Explore Range >
New Products
Each month we bring thousands of new products to market, ensuring that you always have the latest technology available for when you need it
Explore latest releases >
Face Coverings
From disposable face masks to disposable respirators, face shields and more, discover all the essentials you need.
Read More >
We offer collection of click, phone and email orders, ScanStock and custom order services at all our branches between 8.00am – 4.30pm from Monday - Friday. From 8 June, there will be a phased reopening of our RS Local showrooms whilst continuing to follow social distancing and hygiene measures.. Please check locally for individual arrangements.
Keeping our customers, our people and their families healthy is our priority. We're looking forward to welcoming you and our teams will be available to help you through our new arrangements. There will be a limiting to the number of customers in the showrooms at any one time with signage to guide you. There will be separate collection and order points with hygiene protection screens and hand sanitiser stations at the entrances for you to use. Whilst there will be some restrictions on browsing, the team will be happy to help you with your product requirements.
Account and contactless payments, with a minimum order value of £45.00, are also in place. We no longer accept cash.
About Us
From humble beginnings to becoming the worlds leading industrial and electronics distributor, we've quite the story to tell…
Learn More >
Our Services
Learn more about what services we have in place to help you, from next day to delivery to on-hand customer services…
Learn More >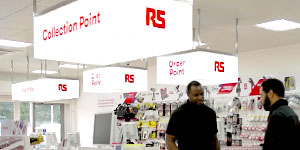 RS Local
Our RS Local branch in Dublin is open. You can click, email or phone your order as usual. Unfortunatey, due to social distancing rules, you will not be allowed inside the branch.
Learn More >