A Complete Guide to Work Trousers
Discover all you need to know about work trousers in our guide and learn why protective trousers are so important.
What are Work Trousers?
Work trousers are items of clothing which are designed to provide comfort and protection when carrying out tasks in the workplace, especially in harsh, dark, or potentially hazardous conditions.
They are available in various styles, sizes, fabrics, and colours to offer the best solution for different environments and types of work. However, work trousers can also be chosen to suit personal preferences, with different waist sizes and leg lengths available for the ultimate mix of comfort and practicality.
Some types are intended purely for safety purposes, while others offer a variety of features to keep wearers comfortable and efficient throughout the working day – including the option to add knee pads or multiple pockets for carrying tools and other necessary equipment. Overall, most work trousers are made from hard-wearing and durable materials designed to provide longevity when completing manual tasks.
Certain types, such as hi-vis trousers and flame retardant trousers, are classed as personal protective equipment (PPE). PPE trousers provide the wearer with protection against injury when working in hazardous or high-risk environments.
Why are Protective Trousers Important?
Personal protective equipment is designed to protect the wearer from injury and keep people safe while they work. There are many different forms of PPE, trousers being just one example of protective clothing. PPE can protect all parts of the body including the hands, feet, head, eyes, and ears.
PPE trousers are important for a range of reasons, but the safety of the wearer is undoubtedly the most important. Different types of protective trousers and workwear are available and each type offers different levels of protection to the wearer, in addition to being best suited to varying environments. As protective trousers can help to safeguard the wearer against hazards ranging from chemicals to extreme temperatures, it is important to choose the best work trousers for the particular task at hand.
Hi-vis trousers are made from a reflective material designed to improve visibility of the wearer in potentially hazardous environments. Another good example is flame retardant clothing which can provide valuable protection in high-risk environments such as chemical plants and the oil and gas industry.
Work Trouser Materials
Work trousers are available in a variety of different materials, depending on the specific application they are designed for and the hazards they are intended to protect against. However, one of the most common work trouser materials is a durable cotton-polyester mix chosen to offer protection against scratches and injury from sharp objects. The use of materials like cotton and polyester ensures that the trousers are breathable and comfortable while remaining highly durable. This makes them ideal for those working in challenging conditions while promoting safety and security.
Hi-vis trousers and workwear are typically made from cotton or polyester with the inclusion of micro-prismatic reflective bands. These reflective bands provide additional visibility and comply with PPE regulations for working in certain industries and environments.
However, synthetic materials such as polyester, acetate, nylon, and rayon are not suitable for use in flame retardant clothing as they could melt and potentially cause injury if exposed to fire or extremely high temperatures. Instead, materials such as kevlar are preferred for flame retardant clothing, as the material's resistance to heat and strong fibres make it an ideal choice for this type of application.
Types of Work Trousers
Listed below are some of the different types of work trousers alongside some of the environments that they are designed to be worn in.
Classic Work Trousers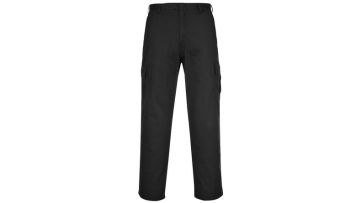 Work trousers of this kind are durable and suited to a wide range of applications. These work trousers are more of a general-purpose option and are most commonly available in straight leg designs.
Key Features:
Durable
Smart and stylish
Multi-purpose option
Comfortable
View Range
Padded/Reinforced Knee Work Trousers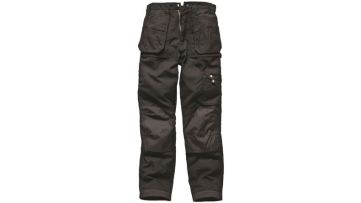 Padded or reinforced knee pad trousers feature a dedicated pouch to hold knee pads within the trouser leg. This helps to provide protection and comfort when kneeling for prolonged periods of time. This design is popular with plumbers, electricians and gardeners, to name just a few examples.
Key Features:
Dedicated pouch to hold knee pads
Protective
Provides a high level of comfort
View Range
Bib & Brace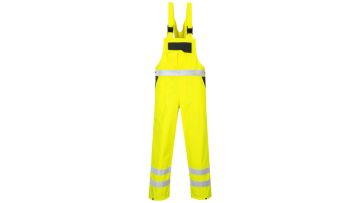 Also known as dungarees, these offer both warmth and protection to wearers. Commonly worn in the industrial sector, the bib & brace can also help to prevent dirt or stains from damaging the clothes worn underneath.
Key Features:
Protects clothes worn underneath
Helps to prevent damage from stains and dirt
View Range
Work Shorts
Shorts are ideal for warmer summer months when it can be too uncomfortable to wear full-length work trousers. However, it is always important to bear any associated safety risks in mind when opting for work shorts. A risk assessment should be carried out to ensure compliance with the Personal Protective Equipment at Work Regulations 1992.
Key Features:
Ideal for warm weather
Can be less restrictive than full-length trousers
View Range
Waterproof Work Trousers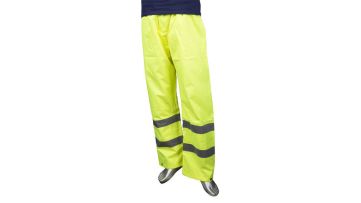 Waterproof work trousers are ideally suited to those who routinely work in wet or damp environments. Many waterproof work trousers also include reflective stripes which ensure that the wearer can be easily seen in poor conditions.
Key Features:
Wind and rain resistant
Provides visibility and protection
View Range
Hi-Vis Trousers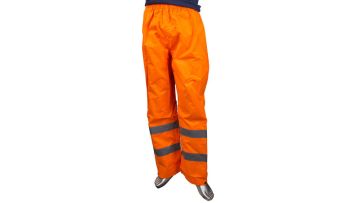 Hi-vis trousers are items of PPE well suited to those working in high-risk environments. They are designed to protect against wind and rain while ensuring the wearer stands out and remains highly visible at all times.
Key Features:
Highly visible in dark environments
Ideal for those working outdoors
View Range
Additional Types of Protective Trousers
Cargo Trousers
Cargo trousers are among the most common for everyday use. They usually have six pockets – two at the front, two at the back and two at the sides. They are typically made from strong fabrics with reinforced belt loops and pockets, ideal for storing essential items such as pencils, tape measures and small tools.
Multi-Pocket/Holster Trousers
Multi-pocket or holster trousers have specially designed pockets so the wearer can easily carry tools and other items. This negates the need for a separate tool belt. Some styles come with zip pockets, enabling them to be removed. The advantage of this is that the pockets can be taken off when the trousers need to be washed, avoiding the need to empty each pocket.
Rain Suits
These are commonly made from polyester which is waterproof – offering protection and comfort in wet conditions. They feature an elasticated waist and press stud fastening at the ankle for extra protection in all working conditions.
Joggers
This style provides comfort and flexibility and generally features an elasticated waistband to offer a better fit. Protective joggers are also available in high-visibility designs.
Flame Retardant Trousers
Flame retardant work trousers are heavy-duty and durable, designed to provide protection against the dangers associated with heat and flames. The fabric is chemically treated so that when it is exposed to a naked flame or heat source, the chemicals react and release gases which can help to slow down the spread of the fire.
Stain Removal Tips
The nature of work trousers means that they are often exposed to a variety of liquids and products which can leave them stained. Therefore, it's useful to know how to remove some of the more common types of stains from your protective trousers and workwear. Always make sure to refer back to the manufacturer's instructions for your specific garment as the below tips will not suit every material.
Common stains include glue, paint and silicone – and while certain substances will cause stains that can't be removed, there are some tricks to help get rid of marks. Here are some stain removal tips to try:
Silicone
If not removed properly, silicone can create a permanent stain on fabric which is similar to a grease mark. Most types of silicone can be dissolved and removed from fabric using rubbing alcohol. After removing the majority of the silicone, wet a clean cloth with a good amount of the rubbing alcohol. Avoid rubbing the silicone stain, as this could make it worse, so blot the mark instead and it should begin to disappear.
Paint
To remove gloss or emulsion paint from work trousers, start by checking whether it's oil or water-based paint. The latter will usually wash out, however, oil-based paints can be a bit more stubborn to remove.
Use paint remover to help get rid of the stain. With a cloth doused in paint thinner or paint remover, gently dab the stain then leave the trousers to soak in warm, soapy water. Again, always check the care label first, though, as you don't want to end up damaging the garment.
Popular Brands
Browse our extensive range of work trousers from leading brands by clicking below to view the full product offering. As well as protective trousers,we also stock a wide range of other personal protective equipment and footwear.